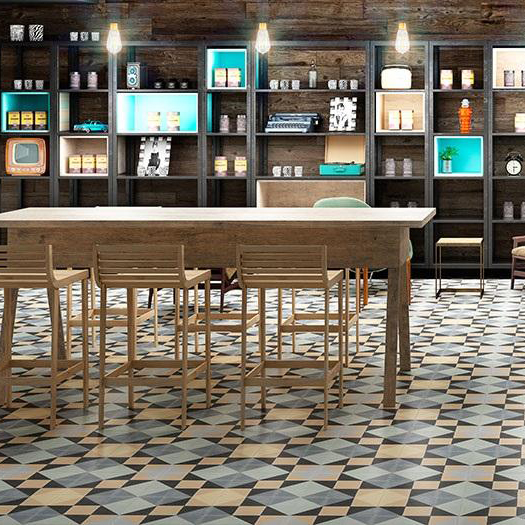 2017 Week 44
Client meetings made easier!



Celebrating the Holidays the only way we know how, with tile - of course! Careful what you wish for, it just might appear! OMG! A new collection of encaustic looking tile made out of PORCELAIN! You MUST stop by to see these in person. Available in a fabulous 12x12 format with colors to die for. Just imagine, a floor that looks like this forever, without being sealed - EVER!
Stop by and check us out or schedule a time for your next client meeting.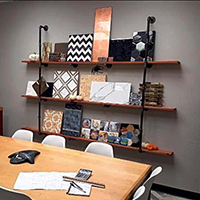 2017 Week 43
Client meetings made easier!



AT&S would like to introduce our conference room now set up and ready for presentations.
Designers, Architects, General Contractors and all Trade Professionals are welcome to utilize our conference room for client meetings.
Equipped with a conference phone, Smart TV and plenty of space for materials presentation.
Stop by and check out the space or schedule a time for your next client meeting.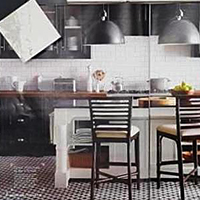 2017 Week 41
Williams Sonoma Inspiration!



The Holiday issue of Williams Sonoma catalog has been making its way around the showroom and we are loving the kitchen on the last page!
Simple and elegant but nothing short of showstopping, the geometric patterns and encaustic tiles are popping up everywhere and we can't get enough! They have the ability to add so much personality to a space without being overwhelming.
There are multiple ways to achieve your dream design. Pictured with the catalog are Cement, Porcelain, and Ceramic tiles as well as Quartz.

Come in and let our Design Consultants help you realize your design vision.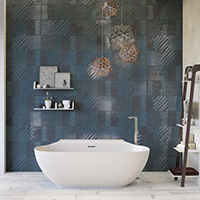 2017 Week 36
NEW! Naxos Raku



The new Naxos Raku wall tile was inspired by the very unique Raku ware from Japan. With 3 colors and 4 decos, this line was created to work together by mixing all the elements into a unique presentation. All tiles are 10" x 24" with a coordinating 1/2" x 10" mitered bullnose.

Our experienced Design Consultants can help you design your space using this new series!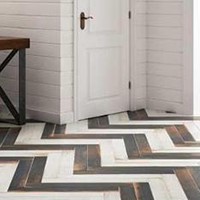 2017 Week 32
Marazzi Urban District Mix



Now In Stock!!
The new porcelain wood line Urban District Mix is stocked in our warehouse and ready for pickup.
A reclaimed wood look in a refreshing, modern color palette.
We carry all 4 colors in the 4"x28" plank size.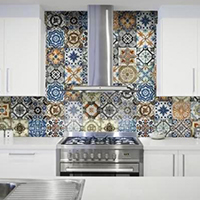 2017 Week 30
Introducing Tangier Decos



These beautiful Moroccan inspired decos come in 8x8 tiles in glossy or matte finish. They can go inside or outside on floors as well as walls. With 25 different patterns in both the Multi Mix and the Taupe Mix they make for a visually stunning backdrop or feature!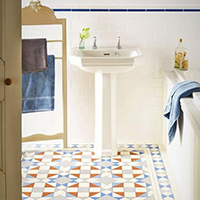 2017 Week 26
In Honor of our Independence



To celebrate our Independence we're paying tribute to the country that got us started, England. Original Style, based in Devon, England, has been creating beautiful, hand made tile since 1986. With a wide selection to choose from they are a good fit for a variety of design styles. See more inspirational photos on their website.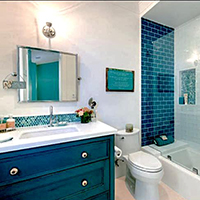 2017 Week 24
Celebrating Dads and the Golden State Warriors!



Here in the Bay Area we get to celebrate Dads this weekend AND the The Golden State Warriors bringing the trophy back to the bay! What better way to celebrate than with a classic and tastefully done Warriors themed bathroom that would not only work in dad's Man Cave but it could be a space the whole family can appreciate. The bathroom uses blue and white glass subway tiles, blue glass penny rounds and to complete the Warriors theme we added some yellow for a pop.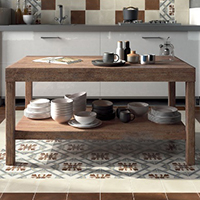 2017 Week 22
Product Spotlight



If we hadn't told you that these tiles were porcelain you wouldn't have guessed it. Installing these in your space will bring instant Old World charm and warmth. The tiles are thoughtful in pattern as well as color allowing for a lot of creativity when designing spaces with them. Be cause they are porcelain they can truly go anywhere, high traffic floors, showers and anywhere in between. They are basically maintenance free meaning there's no need for sealing and cleaning is easy.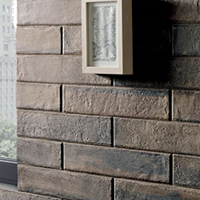 2017 Week 20
Amazing new Bricks to check out. We LOVE them!



Bricks can bring a historic 'lived in' feel to any space. While actual bricks may not be practical in all applications the Urban Avenue is a great option to achieve the same historic feel with a durable and easy to clean surface. The 3x16 porcelain tile can be installed on floors or walls in a variety of patterns. Because of their inherent glaze they never need to be sealed.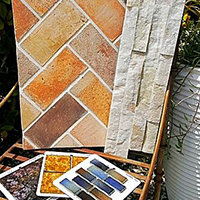 2017 Week 18
Celebrating Spring!



With spring well underway it's time to throw open the windows, let the fresh air in and start those projects we were putting off all winter. Whether it's a small DIY or full fledged 'gut job' we have the knowledge and tools to help you get the job done!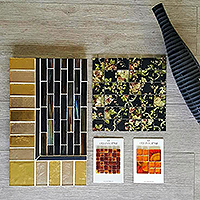 2017 Week 14

This week we were inspired by the recent retreat that the ASID CA Peninsula Chapter took to Japan.

These glass mosaics from Lunada Bay Tile and Original Style are beautiful as accents or in larger spaces on their own to make more of a statement.

Stop by the showroom to see just how stunning these mosaics are in person!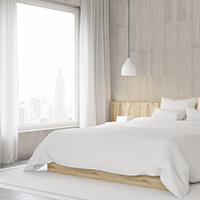 2017 Week 12

Taking its name from the beauty of the sands across the coast, Coastline replicates the natural beauty of linear vein cut marble in porcelain.

Coastline offers four colors Carmel, Malibu, Monterey, and Pebble Beach. Each color is available in matte and polished finishes in 12x24 and 4x24.

Coastline can also be found in stock at AT&S in 12x24.

Bring coastal beauty to your next project with Coastline!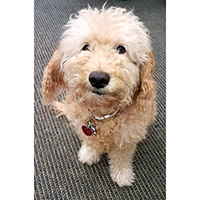 DOOD
Featured Employee - Dood!



Dood has been working at AT&S since 2009. He works in the showroom Tuesday through Saturday. We interviewed Dood this week:
What's your favorite food?
That's so hard! But if I had to pick a favorite I would say it's a tie between lamb and liver.
What's your favorite thing to do?
I like to chase squirrels and get belly rubs from people in the showroom. That's my favorite thing to do, the less activity the better.
What's your favorite memory?
When we celebrated my birthday in the showroom with doggy cupcakes.
Where do you see yourself in 5 years?
With my own office stocked with dog treats and on call petting service.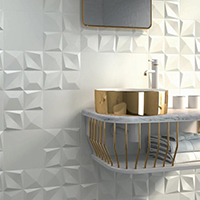 2017 Week 10

Whether you call it dimensional tile or 3D tile, there's no denying that this is a hot trend! We are seeing an increased offering of dimensional tiles being offered by the manufacturers we work with and we love it.

The photo above features a collection called Shapes that is available in seven colors and eight patterns. You can turn the various tiles in different directions to create new patterns and throw in a pop of gold or silver which are just a couple of the colors available.

Are you ready to create a feature wall with a major wow factor?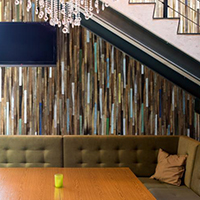 2017 Week 9
Brand new at AT&S: Island Timber!

Island Stone, famous for their pebbles, has created a new line called Island Timber. Island Timber is reclaimed Teak Wood from Indonesia. As buildings and homes age they are torn down and replaced by modern buildings. This wood is carefully cleaned and finished then meshed into various patterns and sizes to create contemporary wall finishes.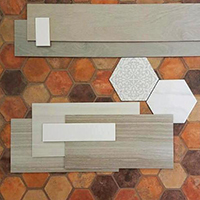 2017 Week 8

This week's inspiration comes straight from our warehouse. All the tiles featured in this photo can be found in stock in our warehouse.

Not only are they in stock, but they are competitively priced to fit any budget! Need to take the tile with you same day? No problem! Need something for floors and walls? We got you covered! We have concrete tile, ceramic tile, porcelain tile, and glass tiles in stock. Contact us for pricing information and be sure to come and see these beautiful tiles in stock at AT&S.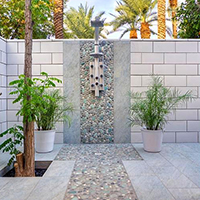 2017 Week 7

It's time to start thinking about our outdoor spaces. Sunny days will be here before we know it and it will be time to start up those barbecues and soak up the sun.

This week's inspiration is by Designer Luz Marina Selles, CKBI of Allure Designs. Her inspiration was based on nature. She was able to bring all the elements of nature into her design by using pebbles, trees, and an open space. In this project she used Island Stone's Bird's Eye Blend. We love that Selles didn't limit the pebbles to just the floor, she took it up the walls in various areas of the space. Come in and check out the rest of what Island Stone has to offer.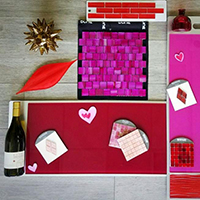 2017 Week 6
Love is in the air, can you feel it? I bet you can see it everywhere!



You can definitely feel it and see it at AT&S everyday. We love what we do and we absolutely love tile! Ask anyone here and we will gladly show everything that we find so amazing and fascinating about tile, from the latest trends to the classics that we can't part with. We receive new tile weekly and these newsletters are aimed to show you all the pieces we love as well as the items that arrive. Come visit us in the showroom and let us show you why you should love tile too.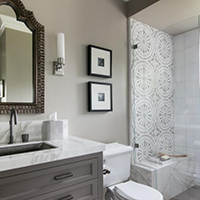 2017 Week 5

This week's inspiration comes from one of our clients, LBF Interiors. We received this shot and couldn't help but share with all of you. For this project we used Tabarka Studio's Signature 10x10 Oxford on Lavan with no distressing and on the other two walls Lavan 10x10 was used. On the floor of this bathroom Belgique Grey was installed in alternating sizes of 6x48 and 8x48 for the main floor. Because the Belgique series is a porcelain tile made to look like wood we were able to continue that same look into the shower pan by having it custom cut to 2x4 mosaics. The countertop and bench are Calacatta polished.

We love every detail of this bath. The rest of the house is just as stunning. To see more about this project and other projects by LBF Interiors visit www.lbfinteriors.com.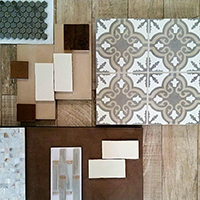 2017 Week 4

We have been crushing pretty hard on blue. But this week we finally broke away from our streak of blues and grays and warmed it up with variations of taupe and brown.

I don't know if you have noticed, but concrete tiles seem to be everywhere! We love this look. A lot of the concrete tiles we see are in bold patterns and colors, but what we like about Tabarka's Strada collection is that the colors are much softer and really let the pattern speak for itself. The Strada 7 was the start of this week's inspiration. We chose the plain 6x12 cement tile to pair with the Strada 7 along with cut 3x6 pieces of Palisades 3x12. These choices were accented with Sumi-e Tresse Burlywood, mother of pearl tile, and Dekostock Funky Hexagon. Time to step away from the cool grays and embrace warm browns.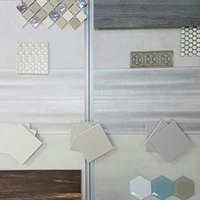 2017 Week 3

Remember that crazy time last year when Pantone picked two colors for color of the year? We decided to do our own take on that with one warm inspiration and one cool.

We started with Fray White with Fray Stripe Warm and Fray Pearl with Fray Stripe Cold. We then used three colors of Impressions. We started with White then transitioned into Almond followed by Rock. We also used three colors for the beveled hexagon glass. We selected a porcelain wood to match each combination and finally completed it with accents like the classic penny round and arabesque.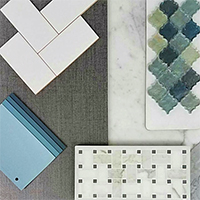 2017 Week 2

All the rain having you feel a little gloomy? Jump in some puddles and keep in mind warmer days will be here before you know it. If that doesn't work, here's your weekly newsletter to bring you cheer and inspiration.

In this combination we are featuring Fabrique Silk with Manhattan White 3x6 in a herringbone pattern on top. We paired these with Calacatta Honed, White Carrara Basketweave with Bardiglio dots, and Dentelle Heavenly Lagoon.

P.S. - The Manhattan 3x6 is stocked at AT&S along with the 4x8 and full trim. Traditional subway not your style? We have something for you too. We also stock White 4x16 in matte and glossy.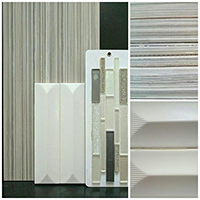 2017 Week 1

Something about the New Year always makes us want to get organized. Recycle all the leftover boxes from the holidays, box away the decorations, and get rid of all the old things sitting around unused. This combination was inspired by all the cardboard we have been recycling and thinking about how to upcycle.

The main tile in this combination is Viva +3 Paper Grigio. From a distance you see a linear pattern, and up close you see a story of paper goods that include cardboard and newspaper. This was one of our favorite tiles that we saw at Coverings 2016. We are also featuring Palisades Glam Relief in Blanco Matte which has a beautiful peak at the center of the tile and linen texturing on the edges. We then topped off this combination with Bella Murro Sutton Forest to tie it all together. This is definitely a combination to see in person to see all the details and texture.