The Bisazza Collection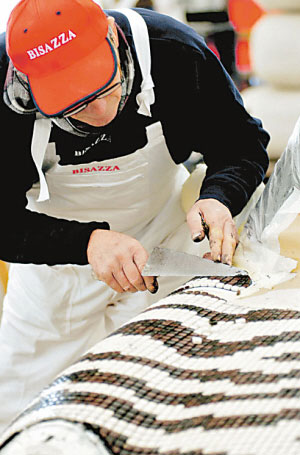 Over the years, Bisazza tiles have been used to create countless public outdoor art installations and architectural spaces in venerable institutions like the Sydney Opera House and the Fondation Cartier pour l'Art Contemporain in Paris as well as interiors for Michelin star restaurants, celebrity mansions and pools and some of the best hotels and spas around the world.
Bisazza says that 70% of the company's sales are from residential clients while 30% are generated by commercial projects with designers and architects like Marcel Wanders's Lute Suites in Amsterdam or Patricia Urquiola's Mandarin Hotel Spa in Barcelona.
Fabio Novembre - "We always give carte blanche to the designers, allowing them to interpret our product. The result of these collaborations is a wide collection of patterns, furniture accessories, installations and works of art that express the unique creativity of each designer – and a distinctive Bisazza style."
View the actual samples of Bisazza in our showroom where you can browse our catalog of hundreds of designs, or create your own custom design.
Our experienced Design staff is at your disposal.