About Us
Family Owned - Established in 1982
We are the ultimate destination for tile & stone with the promise of the most satisfying tile and stone buying experience. From concept through completion, we strongly believe that our customer service and superior product quality with virtually limitless possibilities will achieve your vision for your home. With a customer base that includes homeowners, contractors, builders, remodelers, architects and designers - we serve virtually all types of potential tile buyers. The primary goal of our friendly, knowledgeable design consultants is to help you choose the tile that's right for all of your projects.
We are a company that is based on principles, integrity, and respect. Respect for our employees as well as our customers. We never compromise on quality or service in order to make or save a buck. We believe in educating a consumer and creating the best possible tile and stone buying experience for every individual. We sell beautiful spaces and our goal is to guide our clients to a unique and personal creation that they will enjoy for years to come. We possess an unparalleled selection that reflects the highest standards of form and function within any budget. Whether your project is a small remodel or an extensive renovation, our professional design consultants are ready to help you explore options and provide inspiration today.
---
By putting ourselves in our customers shoes, we treat everyone as if they were a family member.
Our Beginnings...
Give Me a Sledgehammer!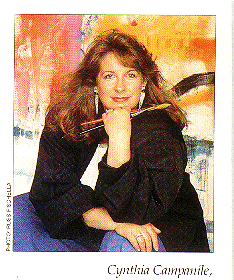 Artistic Tile began business in 1979 when Cynthia Campanile, having recently earned her BFA from San Jose State University in ceramics put her talent to use by creating a custom hand painted tile mural for one of her husbands clients who was remodeling their home. At first it was just a simple flower border painted on the edge of the counter top, but after seeing the results, the client decided to include two murals for the backsplash. Then they decided to redo their bathrooms... then their fireplace... finished off by a custom address plaque for the front of the house.

Cynthia's husband, Tony, was a general contractor by trade, but soon the demand for hand painted tile murals became so great, Tony began specializing in ceramic tile installations, catering to the upscale residential market in San Francisco and the Silicon Valley.
Setting up her Artist's Studio in the back room of her husbands office, Cynthia was sending her clients to different showrooms in the area to pick out their tile. Cynthia felt that she could better serve her clients if she could help them pick out their tile where she worked. She kept asking Tony to build her a showroom, but he kept putting her off, because installations were keeping him and his crews too busy. Finally, one day in 1982, Cynthia came to work and suddenly announced, "I want a showroom of my own!" Grabbing a sledgehammer, she went into the reception area and began to break up the counter area, and some walls. Dropping the sledgehammer in the middle of the pile of debris, Cynthia turned to Tony and said "you know what to do from here..." and went back into her studio. A few weeks later, Artistic Tile had a 300 square foot showroom, featuring Architectural boards from 2 American tile manufacturers lines.
Besides being a talented artist, Cynthia proved to have a good eye for designs in tile as well. Because she had to occasionally help out setting tile when deadlines to finish jobs could turn into penalties, Cynthia had first hand knowledge as to what the Contractor had to deal with. Several local contractors discovered she could speak their language, and began to send her a lot of business. So much business, Tony had to quit supervising the installation business to keep up with the demand of special ordering so much tile & marble.
The original 2 manufactures have grown to over 80 tile & stone manufacturers from all over the world. We also work with several talented artists producing hand made tile. Today, the Artistic Tile & Stone showroom is over 12,000 square feet in a much larger building, with the hand painted tile studio a part of it. The original garage sized warehouse is now 25,000 square feet, including additional warehouse space nearby. Over the years, Artistic Tile & Stone has managed to pick up several outstanding employees, and designers on staff, to meet the growth of the Company. Architects & Interior Designers are daily visitors to our showroom, as well as homeowners.
The original showroom was put in for one purpose...to better service our clients. Customer service is what has built our company, and outstanding customer service will keep it strong.
"We hope that you find our selections on this website to be attractive to you. We have tried to make it easy for you to order through the secure on line order system. We hope to make you a regular customer too!"