SF Showhouse Gardens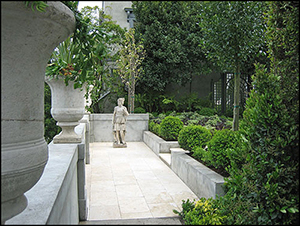 Stephen Suzman and Lisa Guthrie created a garden area in a space that did not exist before construction. In order to create guest quarters, a new garage was built on the street level. The path ahead goes over the new garage. A tunnel connects the new garage to the main house on the right.
A number of decorative items embellish the garden, including stone urns, antique sculpture and a sundial.
The solid marble 16"x24" pavers include Coping pieces used as stair tread nosings.
Pearl Marble Pavers