Terra Tile Safety Stepnose 12x12
SKU: 505TER-XXX1212SF
Weight: 25.2 lbs
Terracotta is Italian for cooked earth. Real terracotta tiles have been used as a beautiful yet durable building material since antiquity. Unglazed and made from raw clay, their natural earth tone permeates the entire body of each tile.

Created from a unique extrusion process and fired to exacting specifications, TerraTile is a highly dense, durable tile with an even color throughout.

You can subject them to heavy traffic, and even use cleansers without causing any damage.
Colors Available :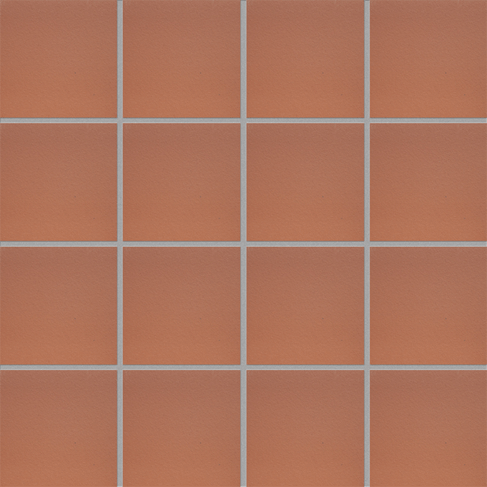 Terracotta
Mission red
SPECIFICATIONS
Description
Extruded kiln-fired clay tiles
Applications
Interior or exterior use: Pool and spa copings, barbeques, outdoor countertops, picnic tables, masonry benches, water      foundations, masonry wall and post caps, glazed kitchen countertops, fireplace mantels and hearths
Colors
Red, Terracotta, Cappuccino, Chocolate
Sizes
12" x 12" x 1/2" Nominal; Special Order: 16" x 16" x 1/2" Nominal; 20" x 20" x 1/2" Nominal; 24" x 24" x 1/2" Nominal       
Actual Size
11 3/4" x 11 3/4" x 7/16"
Edge detail
Finished                   
Grout joint
3/8" recommended   
Weight
12" x 12": 4.7 lbs.; Step nose: 5.8 lbs.      
Surface
Smooth natural clay surface (unglazed)   
Back
Notched to provide a better bonding surface   
Trim
Step nose         
Water absorption
7% range
Freeze/thaw
Can use in a freeze/thaw environment if not in standing water   
Bond strength
Greater than 50 psi standard 
Warpage
Meets 1% standard allowed on any edge    
Facial size variation
Meets 3% standard variance  
Thickness
Meets 0.4" standard allowed   
Wedging
Meets 1% standard allowed             
Breaking strength
Meets or exceeds 250 lbs. standard    
Chemical resistance
17 day immersion - no visible effects 
Modulus of rupture
Exceeds 2000 psi (no standard)  
Scratch hardness
6.0 range, MOHS scale (no standard)
Coefficient of friction
​Meets 0.6 recommended wet standard
Specifications

Description

Installation

Reviews
Weight per Box:
25.2 lbs.
Sq. Ft. per Box:
4 Sq. Ft.
Life Cycle:
Tile floor and paving products are some of the longest lasting products available. A recent study conducted by the Tile Council of North America found tile to be the best value among competing floor covering products based specifically on the price and longevity of the product.
Manufacturing Process: 
 • Unfired production clay is reground into subsequent product batches.
 • No waste water results from the manufacturing process.
 • Heat given off from the kilns is recovered and re-used as a heat source for the dryers.
 • All fired ware which is not packaged as 1st quality product is re-ground, categorized by color, and becomes an integral ingredient for subsequent product batches.
 • Cartons contain the highest % of recycled material available. All cartons are recyclable.
IMPORTANT INSTALLATION POINTS - PLEASE REVIEW
Install tiles from multiple random packs at the same time. Packs should be selected at random from multiple pallets where possible.
Follow the recommended grout gaps as shown in the specifications above.
• Install tiles with underside fixing ribs all running in the same direction wherever possible.
• Flexible 1/2 inch expansion or movement joints should be installed along restrained perimeters of installed area, around rigid interruptions, and every 13 to 16 feet across an expanse of floor or paving. Or follow local standards when available.
Note: For clarification of any point please contact us.
No claim for product defects can be considered after installation.