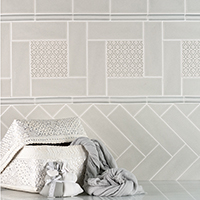 Tile of Spain
AT&S tile offers a large selection of ceramic wall tile and porcelain mosaic tiles to help you design stunning looks for your bathroom or kitchen backsplash. There are six wall tile collections and one floor tile collection at competitive prices at AT&S.
Earth SeriesThe Matte Crackle / Earth Collection is a unique combination of a sophisticated yet rustic tile, a semimatte crackled glaze and an updated color palette. The hand-molded surface and the options of a smooth, textured or raised pattern surface add to its uniqueness and appeal.
Diamond Series Being 3 dimensional, the texture and tone of these tiles are hard to appreciate on a flat screen. Be sure to drop in to our showroom to see and touch these beautiful tiles.
Hampton Series The magic in this finely crafted tile begins with the crackled glazed surface, which appears aged to perfection. The crackled effect gives each tile a delicate character and an individual mystique.
Neri Collection Contemplate the joys of virtually unlimited design possibilities. The Solid Glaze / Neri Collection will inspire you with our four classic neutrals: White, Bone, Sierra Sand, and Silver Mist, in addition to a dramatic Black.
Ocean Collection With the surface effects of a typical crackled glaze combined with the unique micro crackle and its reflective yet dimensional surface makes it not only unique but transitional in design from Classic to Contemporary.
The Studio collection Combine the master potter's craft of the handmade surface with a defined, sophisticated edge. The innovative Translucent Glaze / Studio Collection offers depth and character for understated movement and variation. The ensemble includes highly embossed decos.
The coordinating floor collectionis the perfect flooring to complete your room. Designed with the simple elegance to coordinate with any of our wall offerings.